Contact us
We are always interested in hearing from you,
so please do not hesistate and contact us in any case.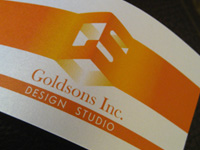 Goldsons Inc.
343 Pioneer Dr. #E203
Glendale, CA 91203 USA

info@goldsons.com

323.907.0768

Careers
We are always searching for the most passionate, creative, intelligent, and honest individuals to join our family. Opportunities include: Web Designer/ Developer (eCommerce experience a must) / Marketing Coordinator.
Please submit your resume to info@goldsons.com, indicating which position you are interested in. No calls please.